This article on Wills is provided by NextLifeBook — Your one stop shop for planning and organizing your life. Create, store and share important documents that your loved ones might need. Find out more about NextLifeBook.
Do you know what happens if you die without a will in Singapore?
If you die without a will, the estate settlement process can take a longer time and cost more for your family members and law determines who gets what.
Most people want their loved ones to be taken care of even after they die. But if you don't have a will, uncertainties about the distribution of your assets can happen and loved ones may face additional stress.
Here are 3 things you need to know about dying without a will.
Disclaimer: Opinions and interpretations expressed in the article should not be taken as legal advice. Please consult the relevant legal documents or a legal professional for clarification and more information.
Your Estate Will Be Distributed According to the Intestate Succession Act
According to the Intestate Succession Act, there are nine rules for distribution of your estate.
The table below summarises the nine rules in layman terms.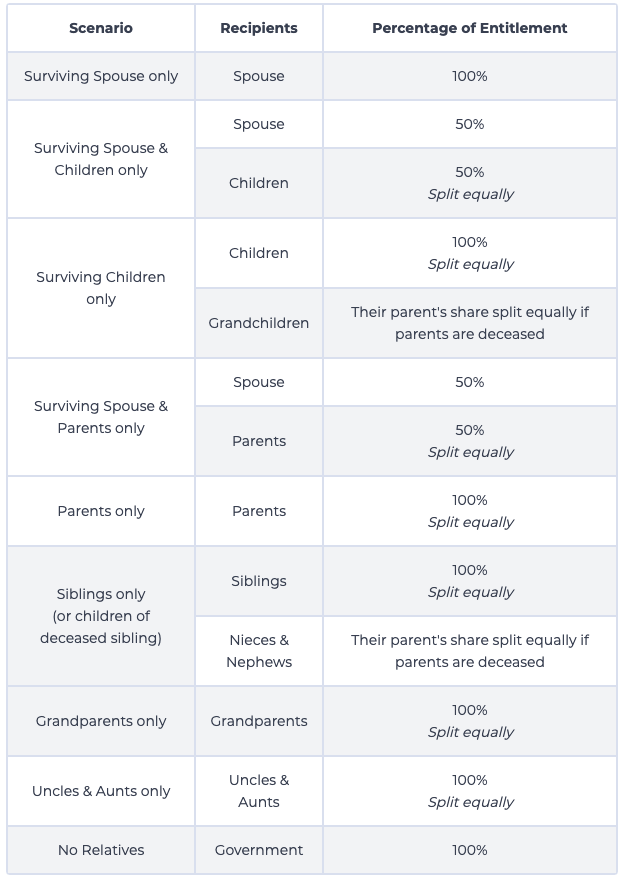 A Grant of Letters Of Administration Is Needed To Distribute Your Estate
Now that you know how your estate will be distributed, who will do the actual distribution of it i.e. go to the bank, request to take out your money, and distribute it? How can they be authorised to distribute your estate?
Your next-of-kin will need to apply for a Grant of Letters of Administration to start distributing your estate. They can then use this document, head to the bank and find out if there are any monies belonging to you.

Your Estate Will Be Used To Pay For Your Debts First (Maybe)
Before the administrator of your estate can distribute your assets, he/she must use your estate to pay your debts. This includes your income tax, credit card debts, mortgage and car loans.
In general, your loved ones will not need to pay for your debts. However, complications might ensue if they are joint account holders of loans or mortgages.
If you have more debts than your estate, your estate will be used to pay for your funeral and administrative expenses, before paying your debts according to the Bankruptcy Act.
---
The death of a loved one can be a stressful and heartbreaking event. Don't let your loved ones face additional stress, complications, and chaos without leaving a will for them to execute on your wishes.
Sign up at NextLifeBook today to start generate your free will.